Self Cleaning Glass:-
We only use the industries best and well known glass brands. We use Pilkington Glass and Saint Gobain high performance glass
Our glass is high performance self cleaning glass and is 24mm thick.
4mm low e glass with self cleaning properties to the outside
16mm Warm edge spacer bar
4mm toughened safety glass to the inside.
We also inject Argon gas in between the two panes to lower the U-Value to 1.0U
Our glass also comes with the option of different tints. The most popular tint is blue and neutral tint.
The blue tint reduces the sun glare that is possible with normal clear glass and with our amazingly low U values dramatically reduces the amount of heat that comes into your property on a very hot sunny day, keeping you cool to enjoy your space.
When you order one of our rooflights, skylights or roof lanterns you are safe in the knowledge that when the glass is installed there isn't much more you need to do but stand back, relax and admire.
No more climbing up ladders, no more cleaning and helping the environment!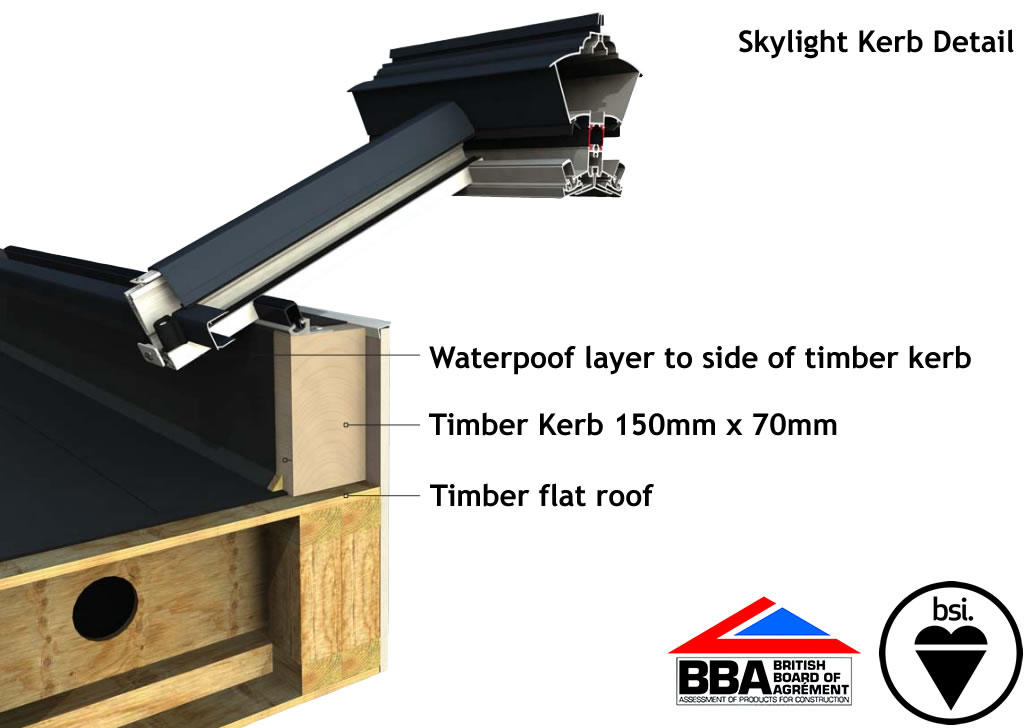 The skylight kerb has a waterproof layer that should align to the timber kerb. Timber kerb is typically 150mm x 70mm and should be seated on the timber flat roof.
Aluminium bars, Eaves beams and Cappings:-
All the bars and ridge that make up the skeleton of our rooflight and skylight products are made from strong lightweight aluminium. Internally the aluminium is covered by a uPVC cover. This makes it aesthetically pleasing and reduces the chance of condensation.
The external cappings are all powder coated aluminium with the except of the white uPVC option. We can now powder coat the external or the internal of your rooflight or skylight in any colour you choose. A copy of our RAL chart can be found here.
Assembly and Installation:-
At UK Rooflights we offer a full installation service to fully install your rooflight, skylight or roof lantern onto your ready made timber kerb.
Please check the required kerb details shown on our website as there are slight differences with the kerb detail and where to measure to. If you are unsure please contact us for more information.
With this option we come to site with the rooflight, skylight or roof lantern in flat pack form for easy access so that our fitting team can fully assemble and glaze the product on your roof, avoiding lifting costs and additional people on site.
Warranty and Certification:-
BBA Certification
All rooflights, skylights and roof lanterns have BBA certification.
BBA stands for British Board of Agrément. The BBA offers inspection and approval services to the construction industry to give the peace-of-mind to the end user, be it the home-owner or the building-owner.
Ultimately, BBA accreditation demonstrates that a product is fit for purpose.
Warranties
All our glass products feature a 20 year warranty from the date of purchase. Should a glass unit fail within this 20 year period we will replace it free of charge providing that the original is returned for in house examination and providing they have not been damaged during fitting or have been glazed incorrectly.
Our Rooflight, Skylight and Roof Lantern systems are covered by a 10 year guarantee against discolouration, shape retention and component failure. If your product has been colour coded or powder coated they are not covered by the guarantee if aggressive chemicals are used to clean it. Installation, sealing and waterproofing are not covered and they are the responsibility of the installer.
When UK Rooflights have installed your product the guarantee is in force up to 10 years.
All electrical items including our LED lighting systems, motors and climate control units have a one years guarantee.
UK rooflights offer 1 year warranty on all our electrical items, 10 year warranty on rooflights and skylights and 20 year warranty on all our performance glass. Best quality guaranteed.
UK Rooflights are not responsible for any consequential costs arising from the failure of its products which include unglazing and reglazing.
Our Standard Terms & Conditions of sale apply to all products supplied which are on our website.